24 March 2016
REVIEWED: 2016 events in the media
Read up on what the media and audience members wrote about some of the 2016 Festival shows!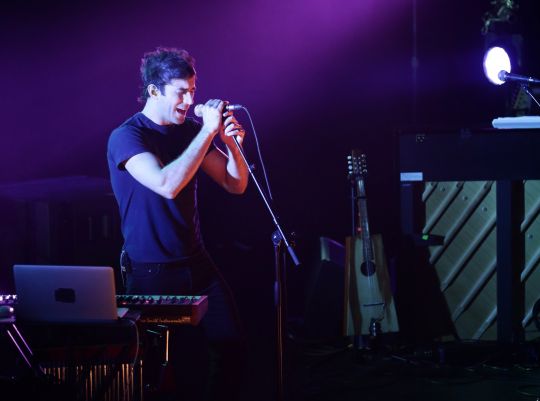 The James Plays
"A masterpiece... an overwhelming, utterly involving, experience." - RNZ
"The theatre event you'll be talking about for the rest of the year." - Metro Magazine
"The pace, helped along by dramatic drums and action sequences are truly unique and set the bar so high for any competing theatrical experience." - Keeping Up With NZ
 "Huge thanks to the cast of The James Plays - such a rich theatrical experience over three nights!" @Aklfestival #Aklfest" - Stephen, Twitter
"@Aklfestival #thejamesplays was such an epic trilogy. Amazing performances all round." - Raymond, Twitter
Carabosse Fire Garden
"A true sensory experience, Carabosse is mesmerizing." - NZ Herald 
"With live music playing throughout, and a sizzling, crackling, feast of fire, Carabosse Fire Garden is a wonderful treat." – Theatreview  
"Was a really special night - cool to be a part of something so different. It felt so magical and my son (10) didn't want to leave! Hope you come again." – Audience member on Facebook
360 ALLSTARS
"We all leave the theatre with a common sense of satisfaction that what we just witnessed was a showcase of pure skill, showmanship and A-Grade entertainment." Theatreview
"It's refreshing to see the 360 ALLSTARS crew flipping the script by bringing traditional circus skills into a wildly energetic celebration of street culture." NZ Herald
"Awe-inspiring. I've never seen a show like it, and I doubt The Civic has either." - Metro Magazine
m¡longa
"m¡longa leaves the audience saturated in tango both aurally and visually: it is a stimulating treat for the senses." - Theatreview
"@Aklfestival: a constant blur of fancy footwork to rival #LionelMessi m¡longa #Tango #AKLfest" Phenomenal show :)" - Rebecca, Twitter
The Chorus; Oedipus
"World-class Greek tragedy like you've never seen before." Theatre Scenes
"This is world-class theatre – the highlight of this year's Auckland Arts Festival."- Tearaway 
Marama
"Marama is a deeply beautiful sight, like looking at a dense oil painting of an untouched landscape." - Metro Magazine
"Intense. Striking. Necessary. The dialogue between music and movement, props and performers moves us along a delicious  pathway, drawing us beyond the destruction of deforestation to offer a slither of hope for regrowth and nourishment." - Theatreview 
Te Pō
"It clambers right into your heart... it's a masterpiece." Metro Magazine
"This is imaginative and ambitious theatre, unafraid to ask the big questions, probing the nature of existence and grief. Reminding us that life can be funny and sad, meaningless and significant, universal and personal, all at the same time." - Theatre Scenes
"An outstanding piece of New Zealand theatre which not only challenges but also respects the theatrical traditions... Bland opens up a whole new world, a world where we question our very existence." Keeping Up With NZ 
Not in our Neighbourhood
"Thank you @Aklfestival for including Not in our Neighbourhood in your programme. Such a moving and fantastic play!" - Jacinda, Twitter
"This play's compassion and understanding is endless, and that's what makes it a necessary piece of theatre." - NZ Herald 
"What this opening won't prepare you for is how hard this play hits emotionally. A knot forms early on in your throat, and stays there for the rest of the performance." Metro Magazine
BigMouth
"Went to BigMouth tonight, @ Auckland arts festival. Pulling us in with political speeches, different doctrines, syncopated voices and rhythms, sensational!" - Sarah, Twitter
"What a voice! This bravura performance from the Belgian Valentijn Dhaenens could hardly be bettered." - RNZ  
"Belgian chameleon Valentijn Dhaenens gives a masterclass in the delivery of persuasive rhetoric, with a side of melodious self-harmonising." NZ Herald
Changes
"It menacingly encroached as an unnerving Tupua Tigafua strategically rearranged the figurines into the centre stage. It was both poignant and brutal." Danz 
Speed of Light
"Presents the Company's dancers in the finest fettle, drawing on their ability to immerse themselves in fast movement for 30 minutes, exult in sustained precision and utter clarity." - Theatreview 
"Such an amazing show @nzballet #RNZBSpeed of light. Breath taking. Clever. Funny. Beautiful. See it now!" - Carly, Twitter
Nixon in China
"For scale, for ambition, and for what it achieves, this is the landmark event of this year's arts festival". - Metro Magazine
"This slice of our own operatic history should not be missed."  - NZ Herald
La Cucina dell'Arte
"La Cucina dell'Arte is magnifico!! I can't recommend it highly enough. #AKLfest #AKLfestbest" - Julie, Twitter
"Either as an enhancement to a lazy evening in the delightfully appointed Aotea Square Festival Garden, or a mood-changing pick-me-up at the end of a trying day, the farcical fare of the Ronaldo brothers' culinary comedy absolutely hits the spot." - Theatreview  
John Grant
"Grant's voice is even more impressive in concert than on record." - The 13th Floor
"@CheeseontoastNZ: John Grant and his band of badasses were incredible - especially the legendary Budgie on drums! #aucklandartsfestival #aaf" - Cheese on Toast NZ, Twitter
"Blown away by the fabulous @johnwgrant @Aklfestival. My talent crush has grown exponentially!" - Nicola, Twitter
Sufjan Stevens
"For an artist whose music is filled with lyrics about death and dying, Sufjan Stevens ironically brought everyone at The Civic last night in Auckland to life... He was the perfect fit for the Arts Festival really, as after seeing him live, I could only describe him as a true artist."  - coup de main 

"Sufjan Stevens live at The Civic in Auckland tonight - astonishing, moving, spectacular. I love his songs but live he is something else." - Tim, Twitter
Meow Meow's Little Mermaid
".@MeowTopia truly magnificent, outstanding show. Hilarious & heart felt. My favorite at the @Aklfestival so far. #aklfest" - Ian, Twitter
"Funny, sexy and feminist all at the same time, Australian cabaret star Meow Meow delivers wonderful frivolity." - NZ Herald 
Emily King
"King may have been a little nervous about this unadorned musical outing, the first of her two festival shows. But her assured, soaring set soon showed there were no grounds for it." - Metro Magazine 
"@emilykingmusic pure fire with @tamawaipara & @jaime_coryn at the Spiegeltent tonight for @aklfestival. What a magical show." 
Dust to Dusky

"And so it went on, hit after hit, rousing performance after rousing performance. It was spell-binding to hear these beloved songs performed with so much heart, and given such clever emotional context." - NZ Herald 
Don McGlashan & Shayne Carter
"Something very special happened for the packed – out audience lucky enough to have booked early tickets for two of New Zealand's musical luminaries - Don McGlashan and Shayne Carter. It was a sell out show and a very strong argument for anyone thinking of next year's March Festival, to get in early." - The 13th Floor

"The only thing wrong with this concert was that it was too short by half. McGlashan and Carter put together a set using the best method I've ever heard of." - Metro Magazine
Unstrung Heroes

"Delivered with perfect style and grace which deserves to be showcased." - NZ Herald

The Great Downhill Journey of Little Tommy

"Very entertaining, dazzling at times, brilliantly performed, and well worth a visit. The opening night audience gives them a standing ovation..." - Theatreview

Tar Baby

"Phenomenal writing and performance @Tarbabyplay @Aklfestival tonight. Devastating, beautiful work. Auckland, go." - Orla, Twitter

"A masterful and entertaining piece of theatre that will bring you to a unique place and let you walk in another's shoes." - Keeping Up With NZ  
Laughton Kora & Friends

"From the first moment, it was clear that Laughton plays from the heart and this lends a soulful power to his music." - The 13th Floor
Ruaumoko

"It's magical. It's massive. And I certainly hope this project continues for many years to come." - Theatreview 

"It was a breathtakingly controlled pas de deux, catching the multicultural diversity of our city in one unforgettable image." - NZ Herald
No Man's Land

"A multi media performance that was so special, so heart -centred, so fresh and alive in each moment of its delivery." - The 13th Floor
 
Brass Poppies

"It is a significant work, a commanding achievement from the creative team." - Metro Magazine 

Duck, Death and the Tulip

"Faultless, enjoyable, challenging and expertly made." - Theatreview 

"Saw lots of goodies but @littledogbarkin's Duck, Death and the Tulip will stay with me for a long time! #AKLfestbest." - Faith-Ashleigh, Twitter
Waves

"What a story! Told just in time, too, by a 95 year-old Elizabeth Moncello, to care-giver Alice Mary Cooper at the Marie Curie Hospice in Edinburgh. Who knew what we now call the butterfly stroke was invented by an Australian schoolgirl in the 1930s?" - Theatreview

"Delivers an object lesson on how the art of story-telling can transport us into another world. A deft combination of voice, movement and music conjures up the sheer joy of plunging into the sea while the story playfully blurs the boundaries between truth and fiction." - NZ Herald
Top image: Sufjan Stevens at The Civic, Gate Photography