WHERE TO BOOK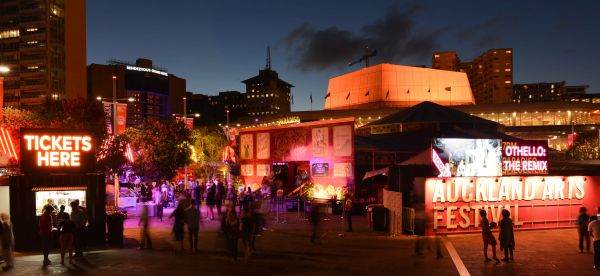 FOR ALL FESTIVAL EVENTS (EXCEPT NANOGIRL'S EXPLOSIVE SCIENCE WORLD) BOOK AT
TICKETMASTER www.ticketmaster.co.nz 09 951 2501 
SHOPPING CART www.aaf.co.nz 
Save on booking fees, book online

TO BOOK IN PERSON GO TO
AOTEA CENTRE BOX OFFICE 50 Mayoral Drive, BOX Café, Aotea Centre
FESTIVAL INFORMATION BOOTH (8 - 26 March only) Festival Garden, Aotea Square
FOR SHOWS AT THE FOLLOWING VENUES YOU CAN ALSO BOOK AT THE VENUE
ASB WATERFRONT THEATRE www.atc.co.nz / 09 309 3395 Box Office 138 Halsey Street 
AUCKLAND DOMAIN Domain Drive www.ticketmaster.co.nz
MANGERE ARTS CENTRE – NGA TOHU O UENUKU Cnr Bader Drive & Orly Avenue, Mangere / 09 262 5789 Box Office www.eventfinda.co.nz
Q THEATRE www.qtheatre.co.nz / 09 309 9771 Box Office Q Theatre, 305 Queen Street
TE ORO www.teoro.org.nz / 09 890 8560 98 Line Road, Glen Innes Box office www.eventfinda.co.nz
VODAFONE EVENTS CENTRE Ticketdirect www.ticketdirect.co.nz / 09 976 7777 Box Office 770 Great South Road, Wiri
DOOR SALES
Tickets are available on the day of the performance at relevant venue box offices (see above) 90 minutes prior to the performance unless sold out. Book early to avoid disappointment.

SEATING, CONCESSIONS AND GROUPS
GENERAL ADMISSION (GA): Seating is on a 'first come, first served' basis. Arrive early (45 minutes prior or more for events in the Spiegeltent) to ensure the best choice of seat. ALL seating reserves for Spiegeltent shows are on a first come, first served basis, except pre-booked booths.
CONCESSION (CONC): Senior Citizens 65+ (with SuperGold Card); Full-time student (with valid ID); Beneficiary (with Community Services Card); Child is aged 14 years and under. All children must have a ticket, regardless of age. Please note: only selected shows have child prices.
GROUP BOOKINGS: Groups of 6+ qualify for concession prices. Book on Ticketmaster Group Booking line 09 970 9745 or via email at groups@ticketmaster.co.nz. For Q Theatre AAF shows contact the venue directly 09 309 9771.
SCHOOL GROUPS: For information about bringing a school group to a Festival show, visit www.aaf.co.nz/forschools
STUDENT RUSH: Full-time students (with valid ID) can purchase Student Rush tickets at 50% of any regular ADULT price only on the day of the performance from the relevant venue box office (subject to availability).

ACCESSIBILITY
WHEELCHAIR ACCESS: Please advise of any special seating requirements including wheelchair and/or companion seating when booking.
ACCESSIBILITY: For some performances written introductory notes are available on request for blind, low vision, hearing impaired and Deaf patrons. Please visit the 'Booking Info for Accessible Shows' page. Introductory notes will be posted online on the event page or alternatively email info@aaf.co.nz or phone 09 309 0101 to request a copy.
SPECIAL OFFERS* 
SPECIAL OFFERS: The Festival may run special ticket offers for selected shows. Offers are communicated to Twitter followers (@Aklfestival) and Facebook friends (Facebook.com/Aklfestival).
SPIEGELTENT PACKAGE: (Limited availability). Book 3 different Spiegeltent shows at ticketmaster.co.nz, and receive a 15% discount on full-price tickets. 
Opt. 1: La Soiree, Paris Combo, Respect;
Opt. 2: Revolutions, Paris Combo, Mexrrissey;
Opt. 3: La Soiree, Revolutions, Mexrrissey.
Offer ends 31 Jan 2017.
Q THEATRE QFEST PACKAGES: (Limited availability). Book 3 different full-price Q Theatre AAF shows for $140, and save $15 (min). Opt. 1: The Biggest, Cellfish, How To Keep An Alien;
Opt. 2: The Biggest, Every Brilliant Thing, Cellfish;
Opt. 3: The Biggest, How To Keep An Alien, Every Brilliant Thing;
Opt. 4: Cellfish, Every Brilliant Thing, How To Keep An Alien. Only available at qtheatre.co.nz.
Offer ends 31 Jan 2017. 
* Booking fees apply to all special offers.
IMPORTANT INFORMATION
Tickets may be sold by a variety of ticketing agents, each with differing booking or service fees and processing charges. Prices for events listed in this brochure are exclusive of these charges. Where tickets are booked in person, by phone, fax or internet, an additional cost will be incurred and will vary from a per-transaction charge to a per ticket charge depending on which agent is selling the ticket. Recommendation: if you are booking more than one show use the SHOPPING CART function at www.aaf.co.nz. Online bookings generally incur the lowest charges when buying more than two tickets.
Information in the programme is correct at the time of printing. The Festival reserves the right to alter without notice any events, programmes and artists
Ticket prices include GST. All sales are final and there are NO refunds or exchanges, except as required by law
All ticket purchases are subject to availability and the best available seats (in each price category) at the time of purchase
Latecomers may be excluded from a show or admitted only at a suitable point in the performance. Latecomers will not be entitled to a transfer or a refund.
Some seats (other than Premium and A Res) may have sightline/sound restrictions; please check when booking.