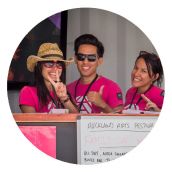 Do you have a passion for the arts? Want to make connections with like-minded arts-lovers and arts professionals? Are you enthusiastic and friendly?  Do you enjoy taking part in free, fun and creative public activities?
 
The Auckland Arts Festival team has fantastic volunteer opportunities for arts students and arts lovers to support our programmes, engage with the public and be the face of the Festival.
FIRST CALL FOR VOLUNTEERS - WHITE NIGHT
This year Artists Alliance is managing our first call for volunteers.
We are currently recruiting volunteers for White Night, Saturday 18 March 2017. 
Read more about how to get involved and who to contact: White Night Call for Volunteers 2017. 
Volunteer Questionnaire here.
More volunteer recruitment opportunities will be posted in the coming months.